Metchosin Challenge for Lent
Metchosin Challenge for Lent
Thursday, March 15, 2018

Important: This event has already occurred.

View Next Date
7:00PM - 9:00PM
St. Mary of the Incarnation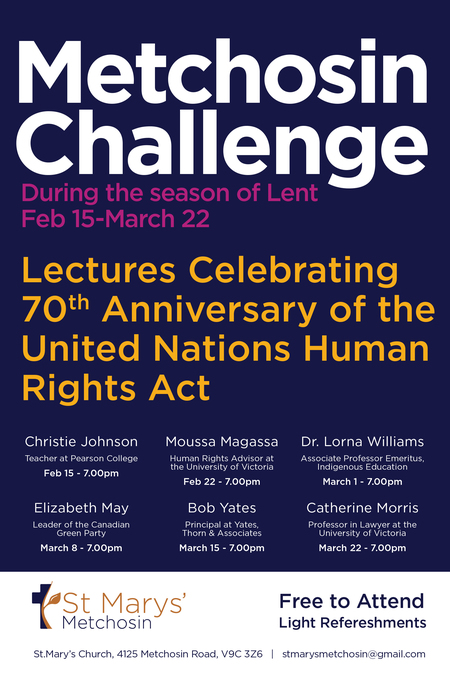 This year we will be resuming the wonderful Lenten lecture series that began last year organized by our very own Sharleen Thompson. In honour of the 70th anniversary of the United Nations Human Rights Act the lectures will focus on this theme. Our first speaker will be Christie Johnson a teacher at Pearson College. Christie will be speaking about education for women in Malawi. All lectures are to be held at St. Mary's of the Incarnation at 4125 Metchosin Road at 7pm. Light refreshments will be served and admission is free. Should you choose you may make a small donation towards the refreshments but there is absolutely no obligation to do so.
Other speakers include:
Moussa Magasa, Human Rights Advisor at the University of Victoria on Feb 22nd who will be speaking on the first right of the UN Declaration; equality.
Dr. Lorna Williams, Professor Emeritus, Indigenous Education on Mar 1st, Elizabeth May, Leader of the Canadian Green Party on Mar 8th, Bob Yates, Principal at Yates, Thorn and Associates on Mar 15th and Catherine Morris, Professor of Law and Lawyer, University of Victoria on Mar 22nd.
Available Files to Download
To download, right-click the file and select "Save link as".
Return to Events
---