Saturday, March 30, 2019
St. Mary of the Incarnation
This event has already occurred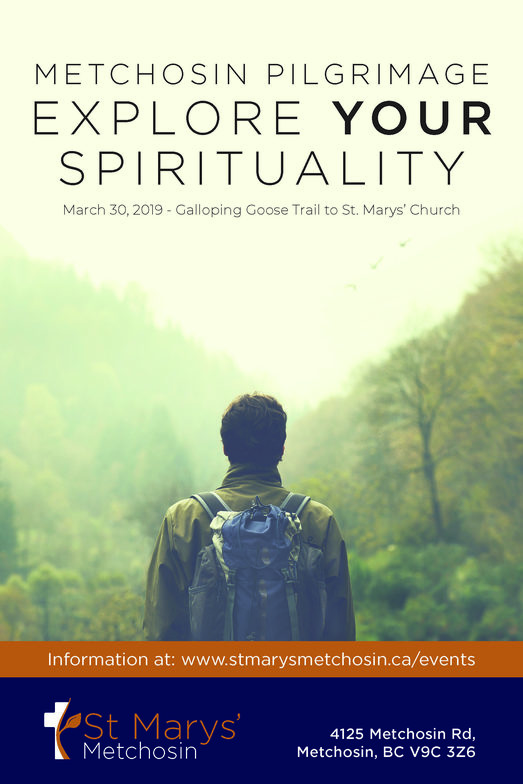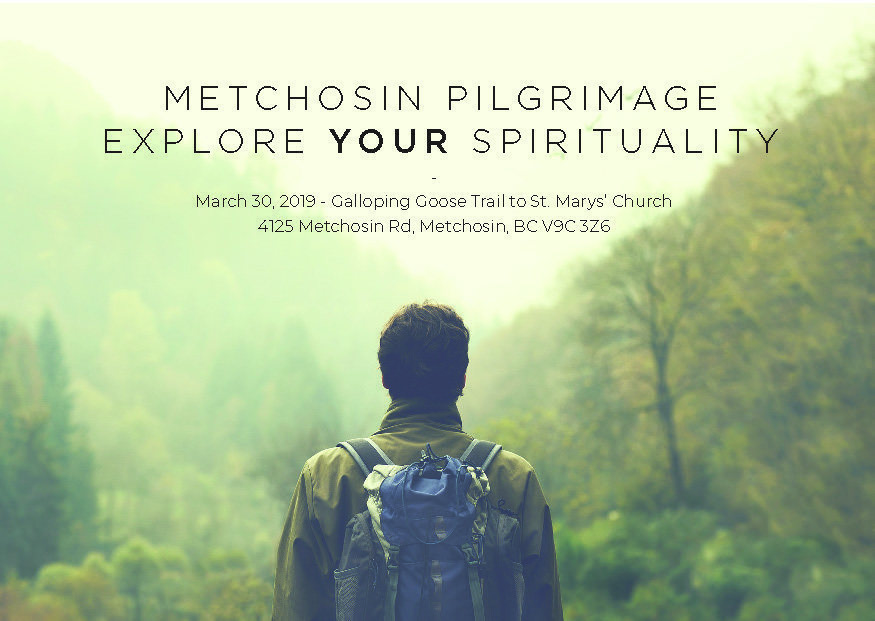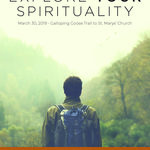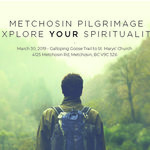 Join the pilgrimage walk along the Galloping Goose Trail through the old church yard, full of blossoms, to St. Mary church, 4125 Metchosin Road. We ask pilgrims to choose their start time and distance so that we all finish walking around 5:00pm at St. Mary church. There is a by-donation shuttle service from 8am to 1pm from the church parking lot to the 5 starting points on the Galloping Goose Trail. Distances vary from 23 to 3 kilomters, and families are welcome. The pilgrim's 3 course meal of salad, main course with vegan option, dessert and drink is only $5. More important, it allows us to share experiences, and learn from each other. We will finish by 7:30pm.
FAQs
Are there ID or minimum age requirements to enter the event?
All those who can walk or bicycle 3 or more kilometers are welcome. There is no age barrier to join the pilgrimage. If you can't walk that far, consider viewing the beautiful blossoms at the old church yard, 4354 Metchosin Road.
What are my transportation/parking options for getting to and from the event?
There is a shuttle service between 8am and 1pm from the church parking lot, 4125 Metchosin Road, to the 5 starting points along the Galloping Goose Trail. If pilgrims donate on average $5 each for their shuttle ride, we will break even, so we suggest $5. Do come, and pay what you can. The parking is free!
Although the starting points on the Galloping Goose Trail have parking nearby, we recommend that everyone takes the shuttle. Most people don't want to walk all the way back to their starting point to get their car, and we can't offer the shuttle in the afternoon/evening.
Bus #54 leaves from the Langford Exchange, every two hours between 7:30am and 7:30pm. Please check the schedule.
The shuttle service can't transport bicycles, but we can store them at St. Mary church.
What can I bring into the event?
An open heart, water, snacks, mobile phone, suitable clothing and shoes, and probably lunch are perfect. Some may bring a camera, a journal, or a favourite book. Consider leaving a change of clothes and shoes in your car for when you finish the walk. We supply the maps, safety information, shuttle, supper and a chance to share with fellow pilgrims.
What's the best time to start from the parking lot?
How do you feel and how is the weather? Decide how far you want to walk [23, 19, 13, 8 or 3 kilometers] -- that's your starting point. Decide your likely speed [Google Maps suggests 5 km/hour for younger adults, and our experience is children and older adults may average 3 km/hour], add time for lunch, reflection and the shuttle [at least 45 minutes for lunch and reflection, plus 30 minutes for the shuttle service] -- subtract the time from 4:30pm, and you know when to start.
Supper
Our experience in a pilgrimage is that sharing food and stories is as important as the walk. Our volunteers make the meal as nutritious, tasty and inexpensive as they can. Individuals eat for $5; families of parents and minor children eat for only $15 total.
What if I have special dietary needs?
The pilgrims' meal is a green salad, with optional dressings, an entre with a vegan option, dessert, and coffee/tea/water. If this may cause you difficulties, talk to the church organizer given below, and we will let you know if we can accommodate your needs.
How can I contact the organizer with any questions?
Call or email St. Mary Incarnation church at 250-474-4119 and [email protected]
Registration at:https://www.eventbrite.com/e/metchosin-pilgrimage-tickets-58334180103?aff=ebdssbdestsearch
registration opens March 2, 2019
Further information: at www.stmarysmetchosin.ca/events
What's the refund policy?
We will be buying food and organizing the shuttle service in the week before March 30, so we can offer a refund until Monday, March 25.